The 2020 Boston Marathon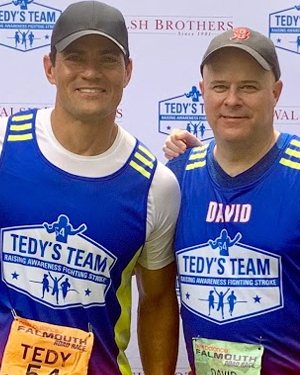 PLEASE JOIN ME IN MY MISSION TO RAISE $10K TO SUPPORT STROKE SURVIVORS!
I am proud to be running the 2020 Boston Marathon for Tedy's Team and our mission to raise awareness for stroke and heart disease while supporting survivors on their journey, giving them a means for a comeback!
A STROKE CAN HAPPEN AT ANY AGE, MY WIFE SUFFERED A STROKE AT ONLY 35!
My wife Kristen suffered from a stroke at only 35, collapsing in front of me just as I was leaving for work and just 2 weeks after the birth of our second daughter.
I had no idea what was happening despite my father suffering numerous strokes. I only wish I knew what the signs of a stroke and that it could happen at any age. Kristen had suffered a Transient Ischemic Attack (TIA) caused by a tear to the internal lining of her left carotid artery, one of the 3 main suppliers of blood to our brain.
Fortunately, the stroke was identified in time and Kristen is doing great. It was a long road to recovery and Kristen started running as an outlet. Inspired by Tedy Bruschi's comeback story of suffering stroke and ultimately rejoining the NFL, Kristen joined Tedy's Team and ran the 2018 Boston Marathon.
WHY AM I RUNNING? IT'S ALL ABOUT THE COMEBACK
Now it's my turn. I run every step in honor of my wife, my late father, mother (stroke in 2015) and all of the inspirational survivor stories we've heard since Kristen joined the team in 2017. Your generous support will help future stroke survivors win their own comeback stories and maybe, in the process, we can help teach everyone how to identify the signs of stroke early.
HOW YOU CAN HELP!
In honor of my wife's 10th "Strokeaversary", I have set a goal of raising $10K to support the Tedy's Team mission that has become so important for so many survivors. Please join our cause and sponsor my upcoming 2020 Boston run!
ABOUT TEDY'S TEAM

The mission of Tedy's Team is to raise awareness for stroke and heart disease while supporting survivors on their journey, giving them a means for a comeback!

Tedy's Team was originally founded in 2005, when Tedy Bruschi, former linebacker for the New England Patriots suffered a stroke shortly after winning his 3rd Super Bowl and just days after returning from his first Pro Bowl.
Tedy's Team participates in the Boston Marathon, Falmouth Road Race, and this year's travel event is Duke City Race Weekend in New Mexico!
We are honored to be part of the Offical Charity Program of the Boston Marathon and the Numbers for NonProfits Program at the New Balance Falmouth Road Race for 15 years. The Boston Athletic Association and the NBFRR hav allowed us to utilize their platforms to elevate the awarenss of the warning signs of stroke, which are best remembered by using the acronym BE FAST, which stands for:
Balance Difficulties
Eyesight Changes
Face Drooping
Arm Weakness
Speech Difficulties - and if you notice any of those warning signs, it's...
TIME TO CALL 9-1-1.
Should you every have any questions, please reach out to Elizabeth@TedysTeam.org.
View More
Achievements

You've Reached Your Fundraising Minimum!
Raised the amount of money defined for this milestone

I Made a Difference!
I supported this event with a personal donation.
Fundraising Honor Roll
Anonymous Donor from Google
$117
Ms. Nell Thayer Heisner
$100
Ms. Nicola Delasalle
$100
Ms. Suzanne Marie Prentiss
$60
Barry and Roberta MacNutt
$60
Tedy and Heidi Bruschi
$54
Matching Gift - Paul Mansfield- Apple
$50
Mrs. Julie Saldarriaga
$40
Mrs. Jean M Hennessey
$20