My Tedy's Team Fundraising Site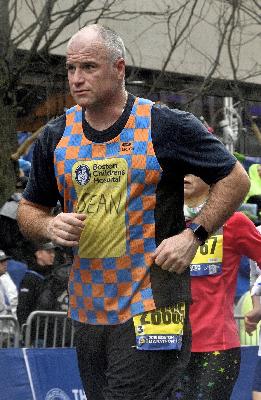 Thank you for visiting my page and journey with Tedy's Team for the 2020 Boston Marathon. I am excited and humbled to be a part of Tedy's Team. The support and awareness that Tedy's Team has created since 2005 is something I am extremely proud to be a part of. I will be training, fundraising and running my 3rd Boston Marathon this year to raise awareness for stroke and heart disease while supporting survivors that are on their way to a comeback.
I train with a big heart, as my grandfather and uncle both passed of heart attacks, two men that were tremendous role models and father figures for me growing up. At the age of 12 years old I had open heart surgery at Boston Children's Hospital. It's because of supporters like you that I was able to have an atrial septal defect repaired which has allowed me to play sports, be active and live a normal life. Each mile I run during my training and at the Boston Marathon is dedicated to raising awareness and supporting those in need of current and future care.
The mission of Tedy's Team is to raise awareness for stroke and heart disease while supporting survivors on their journey, giving them a means for a comeback!
Tedy's Team was originally founded in 2005, when Tedy Bruschi, former linebacker for the New England Patriots suffered a stroke shortly after winning his 3rd Super Bowl and just days after returning from his first Pro Bowl.
Tedy's Team participates in the Boston Marathon, Falmouth Road Race, and this year's travel event is Duke City Race Weekend in New Mexico!
We are honored to be part of the Offical Charity Program of the Boston Marathon and the Numbers for NonProfits Program at the New Balance Falmouth Road Race for 15 years. The Boston Athletic Association and the NBFRR have allowed us to utilize their platforms to elevate the awarenss of the warning signs of stroke, which are best remembered by using the acronym BE FAST, which stands for:
Balance Difficulties
Eyesight Changes
Face Drooping
Arm Weakness
Speech Difficulties - and if you notice any of those warning signs, it's...
TIME TO CALL 9-1-1.
Should you ever have any questions about your donation, please reach out to Elizabeth@TedysTeam.org.
View More
Achievements
No Badges Have Been Earned
Fundraising Honor Roll
Facebook Giving Tuesday Fundraiser
$585
Tedy and Heidi Bruschi
$54